How to make a STEM product to sell: I wanted to share this knowledge on how myself and my past colleagues went about designing and creating STEM products that were sold in retail stores across the UK and Europe and other countries across the world.
When considering how to make a STEM product to sell there are many factors to consider before you open up a CAD or design program.

You need to consider your audience, the budget, how to keep the cost down, and whether the product is actually good enough.
Those are the basic steps.
In order to make a STEM product to sell, you will also need to observe the competition, look at similar products, identify a demand, and the manufacture a product. You will also at this stage look at how to make a product as cost-effective as possible.
This post covers how to design cost-effective models, develop a product, and then prepare it for sale "make it retail-ready" if you are looking at ways to potentially monetise your idea for the future. Or "How to develop a product for under a £1"
The items shared in this post are actual products that were designed by myself whilst working at gadget and gifting company that sold 10,000s of units across the globe.
Most of this post is written from a design perspective but the all-important money stages have not been skimmed over.
Many of the products listed on this page are geared towards, science, tech, and learning all of which will help you when you to want to design your product.

How to make a STEM product to sell | preparation
In short, we created products that would both satisfy demand and be affordable in a retail environment.
In order to keep things affordable, having production costs low was never far from our minds.
We took into account the materials needed to be cheap and time was very precious, and we also wanted to avoid too much trail an error where possible.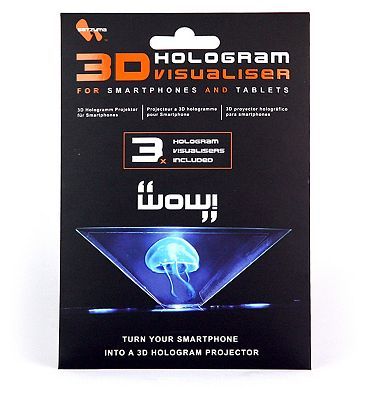 The example here is called the "3D hologram". After many hours trawling the internet, watching gadget videos and looking for cool products for smartphones we arrived at this.
A packaged 3D Hologram for your smartphone.
So the first stage is to check and research to see what the competition is doing and whether there is a demand for the product.
After this step, what can you can do differently and how could we carve a product out in a busy retail environment.
How did we know if it would sell?
In a few of words … we didn't.
But we tried to do as much early research as possible to increase the possibilities that this product would stand a good chance, but there was no guarantee.
As mentioned before. Do your homework to test the waters. Try to make it more than a hunch!
If your product falls flat, even the How to develop a product for under a £1 motto won't count for anything if there isn't a want or demand.
When I was brainstorming with the team and sharing ideas on how to make a STEM product, we arrived at the conclusion that creating the 3D hologram would be a great item to go with.
It was educational, it was tech and the network of ready retailers was there.
We put hours and hours into the research stage.
Don't rush the research stage and do not cut corners or "trim the fat"
These are some of the factors we used to grill the idea and see if it was a viable STEM / or learning product we could sell:-
STEM and learning products was a growing market
Many customers were asking for "learning" and build your own type of products
Researching various websites gave us statistics and the assurance that the product was likely to sell.
We didn't want to leave to much to chance. But, even with all the research and careful consideration…
There is no guarantee that the product 'would' sell.
But doing so on all products if you are wanting to make money from your idea should be thoroughly researched.
Do your homework!
( for the record, this product did sell! Phew..! )

Grill your product idea | next step
Get an idea, love it a little bit, season it with joy, and a healthy dose of optimism. Then start taking it into reality.
Research to see if it is an existing product on the market, or whether there is a demand for your idea. If there isn't a demand, eg there is nothing similar to your idea that doesn't have an audience – don't make it. (sorry you are not Steve jobs) end of the first mean hurdle.
See if people may want it. Scour the internet, see if there are communities, websites, shops, and products to see if there is a modern audience on the lookout for your offering.
Listen to what the retailers are saying and try to meet their demands as they will have good insight into what is a popular product. If you ignore them, the failure of your product increases.
Does it fit in with the rest of the products that you are trying to sell? If you are an established brand there will be certain expectations of you.
I call this a 'grilling stage' for a product or an idea.
This logical and critical approach to your idea is important, don't scrimp on it.
Research your product!
These scrutinising stages of your product are arguably one of the most important and shouldn't be passed over. That lack of critical thinking for your product may backfire later in their form of the general public writing bad reviews or nobody buying your product.
In order to make your product a success, you will need to make sure it will stand up to the competition. Create a viable product that can be sold.
In other words.…
Really think about what you are going to create and whether people will buy it.
It is better to come to this conclusion sooner rather than later. Coming to the realisation you can't sell your product 9 months after creating it will be bad for your business and you will most likely have to pay to store products you can't sell.
That is the end of the big critical thinking stage of how to make a STEM product to sell. Leave nothing to chance, research the market, and always check cost prices of manufacture.

How to create your product for under a £1
Now that you have stress-tested your ideas, you need to consider ways to manufacture your product for as cheap as is necessary without forgoing the quality of your product, and I can't stress this enough…
The quality of your product matters, be this high-end STEM or learning product or an entry-level gadget.
People care about what they are spending, even if it is only £5.
Make it the best it can be for however much you can afford, and if it falls short of being anywhere near the best it can be, wait. Or perhaps consider doing a Kickstarter.
In the past, and on current projects, I take practical steps in order to make a minimum viable product that I feel is worthy of being to be sold. I take pride in what I do, and so should you!
When creating a product, you should always be considerate of the consumer's wallet, keep your product affordable if you want to move high volumes.
But in order to consider how much your customer can spend, you need to consider how you can keep the production costs lower.
More of this is mentioned below.

Product Development Opinion
This is a personal opinion but none the less one I would advise you should take heed of as a business of 2020+.
Don't make rubbish! Don't make a product that offers very little to consumers, makes the world a worse place, or is generally complete landfill!

A product that fails after a couple of uses is a product that is arguably a waste of resources, a bad experience for the customer, harmful to the brand, and terrible for the environment.
Be considerate of what you are making, both at the start, middle, and end of the product's life.
No amount of clever packaging or marketing should disguise a bad product, even if it was developed for under £1!
I like to believe the products shown here were fun and beneficial and that the customers and their children may enjoy them – perhaps even learned something from them.
The next stage of this article offers the steps and details of creating your product to sell or "how to make a STEM product to sell"

Checklist on how to make a STEM product to sell
1) Identify whether your product has an active market. Check that you have channels or retail spaces where you can sell the product. Such as a high-street retailer or online store.
2) Develop your idea, rough-out drawings – try to come up with something that is different but also easy to understand to the lay person. This will make it easier to market and sell your product with packaging or online.
3) After you have established the core product and drafted up a few different concepts, look for ways in which 'features' can be reduced. In order to reduce the cost and make your product lower in production costs, you now need to trim the fat. (create a minimum viable product)
4 ) Reduce expensive materials and unnecessary parts. Consider what the product actually needs and what will be of benefit the user. Does it really need gold foiling and spot UV on the packaging? If not then you should consider removing it.
5) Consider your materials: you can reduce the cost of your product by considering what materials you are using. Can you use something cheaper to save costs but still offer a complete item? Different plastics, reduce the size. Look at the compounds that make your product. Or consider using a card?
6 ) Get a prototype built. I would highly recommend creating a mock-up of your product. DO not gamble £1000's on a product just because you want to save a few £100. Going with the 'just ship it' to retailers can seriously backfire and I have seen it happen! Your brand, reputation, and business will be on the line if you do and you fail this gamble. I would advise strongly – to get a prototype.
7 ) Reduce costs on the packaging. There are a few ways to reduce costs for a product and one area is certainly packaging! In the vein of how to develop a product for under a £1 so you can get a bigger margin, you can still create 'well designed' but cost-effective packaging.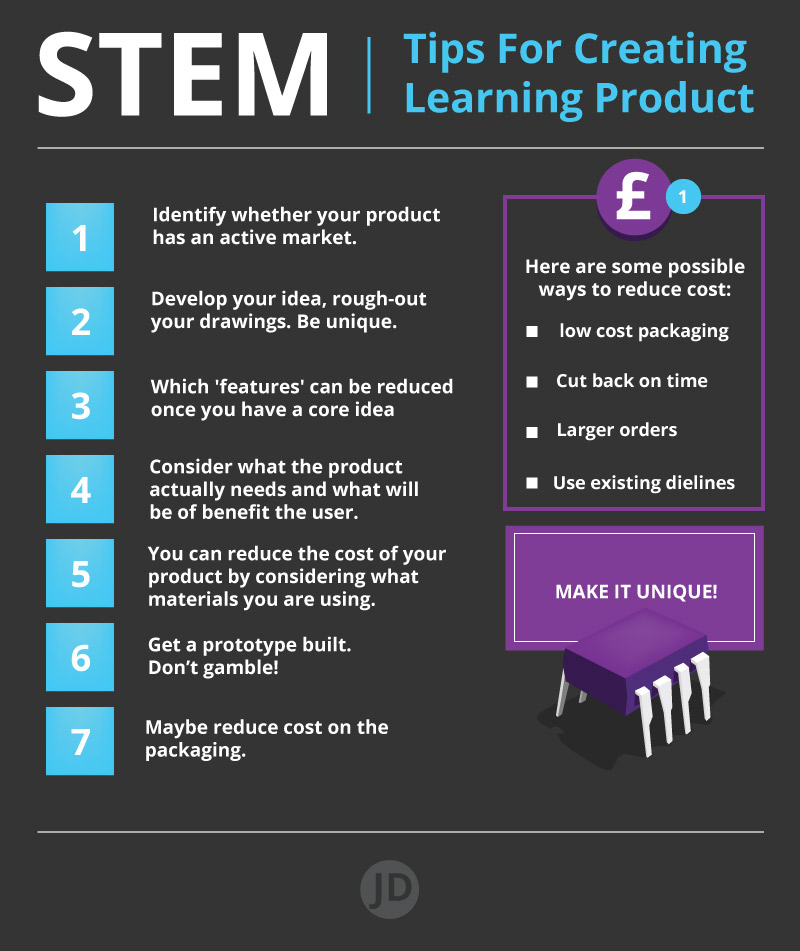 The list above gives you an answer and guide on how to develop a product for under a £1, and how to make a STEM product to sell for your product line.
Do your research and study the market. And look at ways or reducing material costs.

Reducing costs on product materials
In order to follow the guidelines and create a product for under a £1 or a dollar. You will need to look for ways to lower the production cost without harming the quality, one of the surest ways of doing this looking at the materials.
In other words, creating a product that is as awesome as it can be … and stripping it right back to what is needed.
And maintaining some of the 'awesomeness' of the product. ( Awesome is overused, but that is the level you should be aiming for!)
These are some real questions I have asked myself In the past when working on a product.
Questions to ask when reducing the cost of your product
Does it need foil and spot UV on the packaging? Maybe remove it.
Can I reduce the thickness of the cardboard on the box? A good idea if it doesn't compromise the structure of the box or product.
Can you reduce the size?
If possible, can you take any surplus of fluff features of the product?
In the example shown of the VR cardboard, which was created as an introductory gadget into virtual reality and as a learning/exploring product was created with the mindset of keeping the production cost low.
Below is a breakdown of the contents list for the VR cardboard, outlining the core components.
STEM Product Example (reduce cost)
STEM product cutting list: items that were considered in order to lower the cost of the product.
1 Silk coated card sleeve. This needed to be good enough to show the punchy colour and sell the product! Nothing else! I took the opportunity to use the area on the cover and turned it into a space theme.

1 fluted VR Cardboard (the product). The body of the product is made from white-coated fluted cardboard. Cheap enough to make and structurally strong enough to support the product on its own.

Velcro adhesive – in order to close the front guard and to secure the smartphone in place ( and assemble the product) velcro was attached to various flaps and arms.

* The plastic poly wrap – This may not be compulsory but some retailers may require this to sell in their store. The poly wrap can be good for securing the product and showing that the product is factory new and untampered with.
The 'real' cost of developing a STEM product to sell – from scratch!
In order to create a product that you actually sell and make a profit from, you need to make sure that production and running costs are kept low.
But there is much more to creating a product just the cost of materials and production.

Other expenses need to be considered such are the time, creation, design, planning, human effort, storage, packaging the physical size of the product to name a few.
If you do not keep the production cost low in early stages, this may have a knock effect when it comes to selling your product in retail or online, if it sells at all if it is too expensive for it's perceived value.
In order to help you keep track of the money, reference the illustration below.
What is often overlooked, is that actual creation cost for 'entire process' and the buying of a single unit.
In all of these products in this post, salaries were involved, logistics, where to store your product marketing for the sales team to promote the product.
The list below shows a more candid look at the entirety to creating a product, something you should consider when trying to create your product whether for £1, $1, or £5.

Process cost for entire product creation
How to develop a product for under a '£1' the whole process to selling your STEM product.
Scenario 1 – Actual single unit cost and stages:
Research and analysis
Hours spent designing and developing the product
Paying for a prototype or developing a prototype in-house
Making mistakes, the design journey, getting a complete idea.
Revising and polishing the design
Testing the product
Getting the card artwork ready for print and manufacture
The packaging for the product
Writing any manuals and conformity if needed
Creating marketing collateral for the product to help it sell
Taking product photo's to promote it
Designing a webpage/website
Creating an email marketing campaign ( you can read tips here on designing an e-mail campaign)
These are part of the reality of creating a product if this is your first attempt.
From a pure design perspective, (myself being a designer) many of the stages above would generally be missed out. But being in involved in the whole process from concept to completion, I feel this is something you should know now.
The number of hours it takes to create the product. The testing of the product, the development. Marketing – There is a lot of work with many hands involved.
It would vain of me to say that the sole monetary success of a product hinges around the design alone. Don't get me wrong, and I bound to say this. But design is still important for many products.
If this has helped you to take stock and evaluate whether you want to make a STEM product to sell, I hope it has so far given you some positive advice.
Before going onto the next section and showing you some of the STEM and learning gadgets I have created, I wanted to share some pointers to summerise.
Do your homework and see if the market would like your product offering.
Create a mock-up (even a low tech one)
Keep the cost of the materials down to prevent this inflating the RRP too much or reducing your profit.
Consider all processes
And consider who will be involved.
Prepare to invest
This is especially applicable if you are a small team and not just an individual making a product. An individual going about setting up their own product or doing this as a hobby won't need to worry about staff on logistics etc.
At least not for the immediate future.
Whether you are a team or one day you would like to be part of, or have your own team. These points are an important thing to consider when you wanting to know how to design a STEM product to sell and how to develop a product for under £1.
In other words, how to create a low-cost minimum viable STEM product.
You may find some of the following articles also useful for developing a product.

STEM & Tech product examples
Below are STEM, Science, and general learning products that I have designed and co-designed using the steps, principles, and methods as mentioned throughout this post.
The mindset of "How to develop a product for under a £1" was used when creating these.
VR Cardboard "Virtual Goggles" – Smartphone Virtual Reality
This product tapped into a growing tech trend. A simple concept that turns your smartphone into a budget VR headset for under £5 for RRP.
With this pack, you had to assemble your VR cardboard from scratch! It was added as a learning and tech product.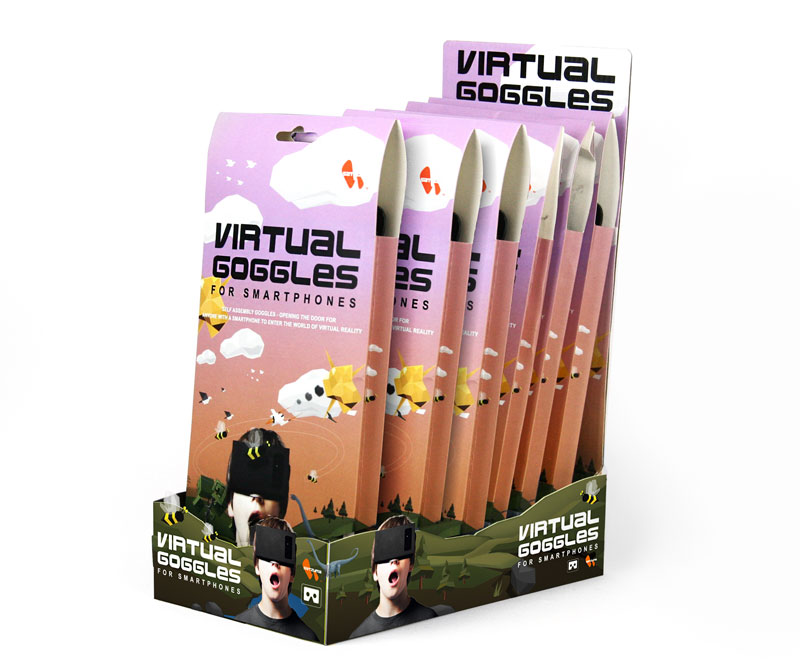 And you may be pleased to know that cardboard engineering wasn't as complicated as you might think.
The die cut was sourced from a factory and the artwork was illustrated by myself. The great thing about this product was you didn't need to spend time to create the product from scratch!
So saved on time.
Learning + tech. So time was saved on the trial and error of creating prototypes as the dieline was supplied.
The product is made only from cardboard too! As the name would give away.
VR Cardboard Frontier
Following on in the same vein, this product was another low-cost tech product. Only that this one was pre-assembled and it retailed for £5 RRP.
This budget VR headset is another entry into smartphone VR. The blank diecut and sleeve were supplied from by a Chinese factory on request and I created the vector artwork and space theme in Adobe Illustrator.
I played with the idea of "frontier" with VR being the next stage of exploration.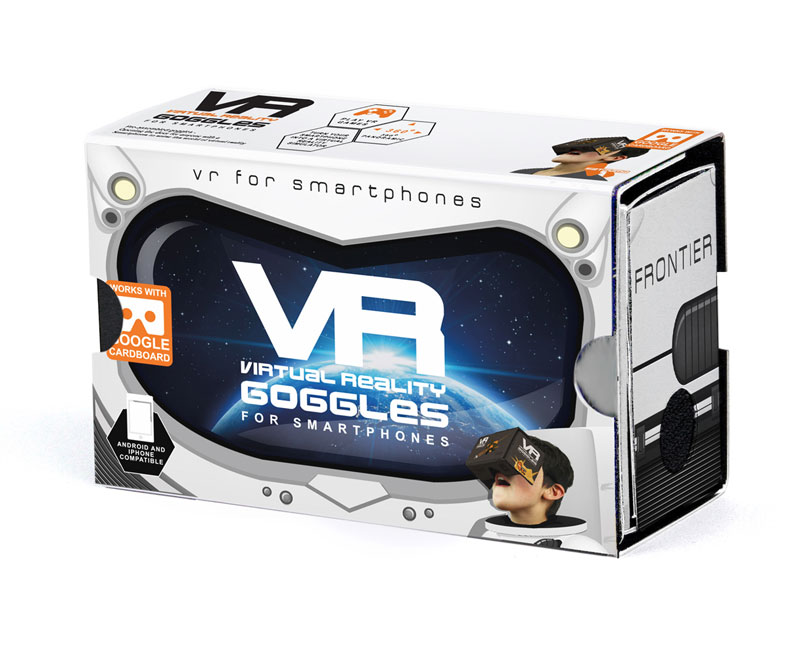 For children, it was created to inspire a sense of awe and fun whilst learning when using the headset. And if they chose to, simply play a game.
It was created to appeal to children and be sold in places such as the science museum. You can read more about my vector drawing service on the design.
Freelance vector illustration & design.
3D Hologram – Mostly made from Cardboard and PET
At one stage, this product went on to sell in museums, learning centres and general retailers across the globe and I was pleased to find out that this was a success. (Thanks all!)
With this product, I was involved in the design and research spending many hours on how to make holograms and numerous Youtube video's on how to construct them.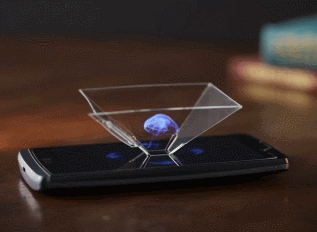 Have you heard of Peppers Ghost? If you are curious to know about Pepper's ghost I would advise have a read of it on Wikipedia.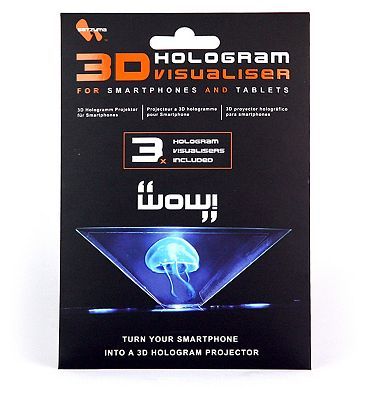 As this topic is based around how to design a STEM product to sell and how to reduce the production costs of your product I wanted to mention a few key points about this product in particular.
Example of "How to develop a product for under a £1"
The actual product is made from clear PET which is folded flat inserted into the card sleeve packaging. The production cost for this was very low!

The packaging is simply a sleeve which contains 2 PET holograms and A4 information manual.

Retail packaging is small and flat so more units can be placed on a EURO hook

The main market for the product was STEM, learning, smartphone tech, and gadgets!
In terms of components, there were very few parts involved. The biggest challenge was developing the product to a standard that it could be sold in retail.
Build your own telescope
Now there are a few things you may notice with this product. It's similar in nature to the hologram which is a STEM/learning product and that has a similar-sized box to the 3D hologram.
This project was a collaboration piece between myself, another designer and how could I miss… the far east team! (Thanks Ann) to bring the product to life.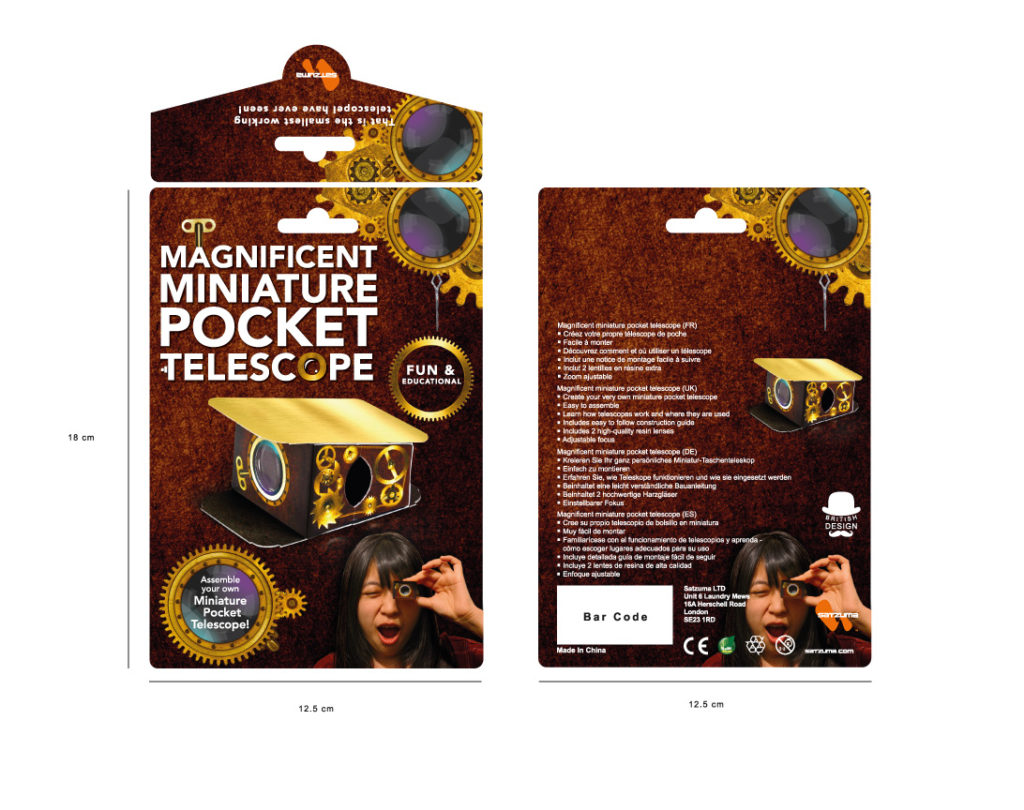 The nature of the product is that you can create your own product (build your own) by following the instructions. By the end of the process, you should have a Miniature Telescope
The product is used the same process as mentioned before, basically, try to keep the material and production cost low as possible.
To keep the STEM product cost as low as possible some of the following techniques and shortcuts were used.
An existing packaging dieline, (Hologram)
The flat pack get as many units on packaging
Card packaging
An instruction manual
Build your own boxing robot
For any budding engineers in the family, this product is a must – all the more if they like boxing.
My involvement in this STEM product was to create retail packaging.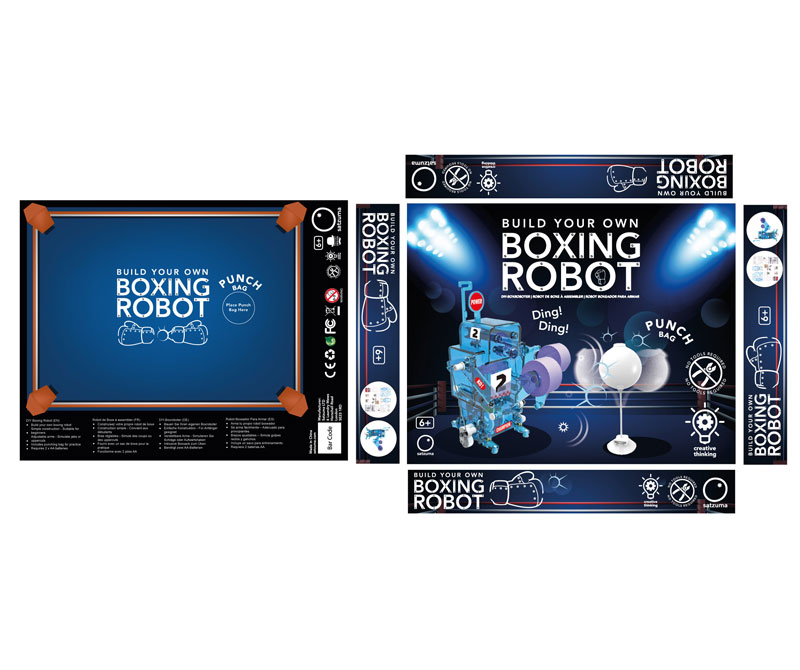 I strove to make the box as appealing as possible with the boxing ring added as an additional feature that would make this awesome product even more appealing.
The artwork was created in a mixture of Adobe Illustrator and Photoshop. The Photoshopping of the robot supplied by a colleague.
The factory-supplied the existing dielines so no extra time was required to figure out how to make the box work. If time is against you this can be a brilliant time and money-saving measure.
*Assuming that the box is actually any good.
Technically, this STEM product would have cost more than £1 to create.
but due to it being from the STEM selection and carrying many of the principles I wanted to convey in this post I wanted to include it.
These principles are listed below in helping you to lower the cost of making your product.

Cost saving measure example
The product was sourced, requiring significantly less time and money to develop a complete product. Fewer growing pains!

An existing dieline was used for the packaging, another way at looking at how to develop a product for under £1 and keep the cost low. as no time would have been needed on the cardboard engineering and working out the sizes etc. A blank box was supplied, the artwork was created by myself.

We had looked at the market to see if there was a potential demand. Due to the nature of similar products, of the build your own. We felt this STEM product may have done well also.

Although the actual single unit cost of this product would have exceeded the £1 or $1 dollar mark. The product was so quick and relevant to our market at the time we grabbed it with both hands and made it our own.
In terms of reducing cost, as so much was ready to use straight out of the pack so to speak, it would have saved weeks of time and money and reduced the burden on collective salaries.
This is the end of my samples for of STEM and learning products. These products are copyright Satzuma LTD.
If feel that this post has helped you on how to develop a product for under a £1 or if you are looking how to make a STEM product to sell ( or both) feel free to share on social media or on your blog!
Enjoy creating your STEM product!
If you would like help on creating your STEM product or creating the flat artwork to go onto the packaging, manual or box feel free to get in touch. Freelance product/packaging design.
how to create a product for under a £1 | quick summary answer
In order to create a product for under £1, you need to look at reducing the cost of production, materials and also just as every bit as important, time.
Time can very costly for a business and looking for cost-saving measures is always important such as looking for some existing solutions which can be tailored or ways you can reduce trial and error.
Looking at uses low-cost materials such as cardboard and paper instead of plastics that require tooling will also reduce of making a product and help to keep below the £1 line.
Other tips for creating a STEM or low-cost product
External links
Designs Bytes | how to make a STEM product to sell and How to develop a product for under a £1. All products are Copyright Satzuma LTD ( Cheers all back at Satzuma HQ!)