I have a project I would like to share!
It's called The London Pub Crawl.
The London Pub Crawl was a project where I was able to offer my conceptual design skills to help bring a prototype board game to the table.
You can read more about my commercial services here:- Board Game Design Services.
Or if you would like to see what this project was about, read on!
The Project | Graphic Design Project For A Party Board Game
Graphic Design Project For A Party Board Game. From the get-go, this project was a fun commission. I really enjoyed working with the client and the project offered plenty of room for ideas and scope. It was a topic that suited me and my interests.
I'm glad for the day that message came into my inbox!


My Role In The Project
My part – my role, in the project involved working closely with the client to design, illustrate and conceptualise a board game prototype – product design in effect.
The client had already established the core game mechanics and had already written the phrases for the cards and how the game should be played. In later stages of development, they found playtesters for the prototype to see how the game really played too!
( It is always good to test on people that have never played or heard of your game! ( links to external website )
I formatted the artwork and guided the creation of the prototype with the client.
Once the core artwork stages had passed, the client needed to find a proofreader and editor for the project.
I'm not a proofreader or editor. In case you were wondering! Read this post for long enough, and you will see for yourself.
Below are some of the detailed design steps for the board game creation.
Idea Generation – Concept
So, I had a general idea for the tone of the game from the outset based on early emails & conversations.
I spoke to the client and asked a bit about the target market and who it was for. I carried out some research of my own and started to come up with some very rough and ready ideas and sketches for what we could do with the game.
This helped to get the old design juices flowing!
These were then presented to the client for consideration. I and the client then decided what would work best for the project.

We came to a conclusion!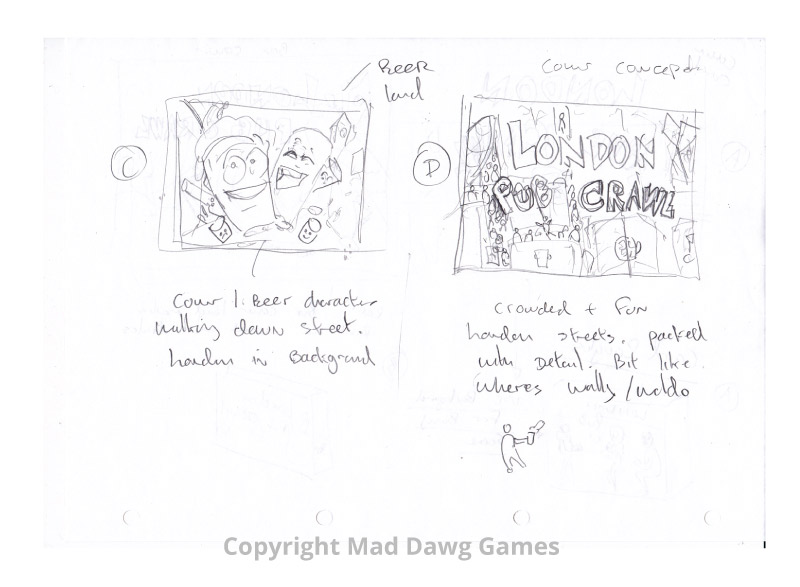 Design, Illustration & Art Direction
Once we were both suitably even more excited about the project, I got to it. I started to draw some of the early 'look and feel' for the cover art, the cards typography and other elements of the game.
I wanted this project to do well for my client as I like my loyal clients to do well.
In terms of the design.
I tried to make it so that the project not only pleased the client but the design and illustration for the project to please the brief! And ultimately, pleases the customer…
And.
In turn.
ALSO pleases the client and fulfils a brief. Hopefully a win-win all around.
( Whoever said design was easy?)
Design & Prototype
Typically, my main part in board game design is in the visual design, concept and in the creation of the 'art' for a game. A lot of this comes from my background in marketing and design and product creation for big retailers. (The old days!_
Generally, in the back of my head, I'm abiding by what the big retailers liked to see and sell when they look at a box. This is based on years of feedback from sales pitches and remarks across a range of products in my former employment.
While I'm keeping this in mind. I am also trying to make an independent and unique game for my client.
It is a narrow line to walk.
Putting the Prototype Together
Varying from brief to brief, I have, on a few projects helped to get a prototype printed for a client.
This involved formatting the artwork according to the printer or factory requirements. In other words, the dielines were either pre-existing or supplied by the factory.
I then put the artwork together according to what was asked.
This is typically an additional process for me that comes after or during designing the initial look and feel for a game – if requested.
When working on a prototype – once the core artwork is made. It can be a case where I will need to adjust the size to fit the spec of the printer/machine for the manufacturer.
It is also noting that the manufacturer or client may wish to change parts on a project such as this. This can be due to what the client requires…. and costs!
I would also suggest that concentrating money and energy into the design look, feel and messaging and getting people to want to pick up your game should be the priority.
I obsess less on where it is made or by who. My part is trying to create something that somebody remembers and thinks they would like to play.

The software was my tool for the job, like a mason has a chisel and a plumber has a wrench! Adobe Software is my toolkit, as it is with most graphic or digital designers of the modern profession.
For those that are less familiar with graphic design jargon.
How it was all done
The vector illustrations, cover work, core look and feel were predominately created in Adobe Illustrator.
Once these had been created, based on the template files downloaded/supplied, I dropped the semi-polished artwork into them in either Indesign or Adobe Illustrator. ( I didn't create the die lines remember )
That was pretty much it for the tools. OR in other words.
Tools :-
Pencil
Paper
Video Call Software
Open Office Word
Adobe Illustrator
Adobe Indesign
I think a big part of what helped this project was the collaboration and the working relationship between myself and the client.
Without that…
The rest is just stuff!
Project Challenges | board game creation
London Pub Crawl was not without challenges – many things worth making will come with a challenge. And many journeys to creating something new will be unique.
You are creating something from nothing.
The creative path is not set and is not certain, it is not a commodity either so it can be tricky to weigh and measure.
For me, this was a very enjoyable design journey.
A lot of the process is an exploration in getting something that fulfils the brief – or at least that is my approach.
From my clients' standpoint, as is often the case, I would say a quiet challenge can be the rules. Rules often increase the more they playtest the game. And as the rules expand and increase more needs to be added.
In this case, this went from being a single sheet of paper to a small booklet because that is what the rules ultimately needed to work properly.
But I would say in the grand scheme of things – this was a good thing. Selling a game with weak rules or broken mechanics is a very bad move with board game creators.
A game where the visual design or theme disguises or distracts the player from poorly written rules is a negative experience for both the player and creator.
Not saying that my client's rules were badly written!
They were good! But as you playtest a game it often becomes apparent that the rules need to evolve.
I have played games – or attempted to play, where the rules are just unintelligible! These ruined an otherwise excellent 'looking' game.
Pay attention to the rules and be prepared to offer them the TLC they deserve!
** If you don't do this, you are begging for backlash later on. **
A negative for the board game developer in the long run.

MVP | Game & The Rules!
Don't go with the 'just ship it' approach or minimum viable product on the rules. You need to write rules so that players can understand how the game works. Add a FAQ to the game rules too if you can. Although, this may not come until later editions.
The more established the rules are earlier on. The easier it is to establish how much will be involved in designing the rules and putting the content together.
Write as much as you can from the get-go before commissioning artists or designers – if you can!
*My client also asked me to add that they were thankful that I helped on the budget and managed expectations – they were very welcome!

A Complete Prototype | Graphic Design Project For A Party Board Game
Going further than just offering graphic design for party board games, I want myself and my client to create a good thing. I can say with comfort that The London Pub Crawl is something I am proud to have been a part of.
And my client should be proud in believing that they have created something that others will get laughs from and will enjoy. And not just enjoy looking at ( I hope they like looking at it too )
It's about the whole experience.
I playtested the game – we all enjoyed it! The reaction you get from others when you hand them a polished game and watch them get all excited does give you a warm buzz.
Where will they take it?
Maybe to retail, but for now ( at the time of writing ) they are hoping to create a crowdfunding campaign ( link to their FB page!) and get it out there on Kickstarter.
I should say this too!
I'm not an ambassador for my client.
What they may or may not do is down to the client but you may wish to take a look and see what may come about in the future.
I enjoyed working on this project and I enjoyed helping to design a Kickstarter story to go along with it. I wish them all the best in the campaign!
For more information on this project, you can visit their ( website ).
If you would like me to design a cover, cards or the main artwork for a board game prototype. Feel free to get in touch.
Testimonial From Mad Dawg Games LTD – Graphic Design Project For A Party Board Game
"The creative effort put in by Jimm was above and beyond what I would have expected when I was looking for a designer.

Throughout the project, Jimm was very professional in that he was open and honest about the deliverables, the project timeline, and the budget as it developed.

Without Jimm, I wouldn't have the amazing artwork, but I wouldn't have had his creative contributions to the project which has had a major impact in shaping the game from its original core ideas into a conceptually and visually awesome-looking board game!"

Mad Dawg Games LTD
Project Posts | Graphic Design Project For A Party Board Game
Other Posts around board game design projects
Design Services | Graphic Design Project For A Party Board Game
External Website Links
Jimmsdesign Blog | Graphic Design Project For A Party Board Game