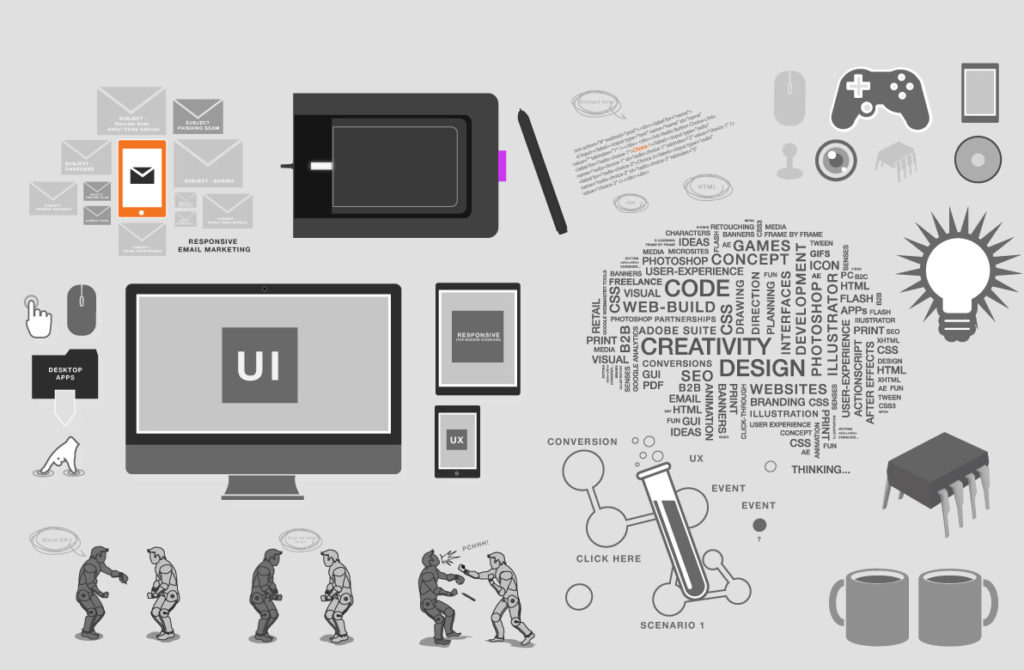 All the design goodies!
Welcome to the design resources page, the home to various pieces of design equipment, software and hardware which has been used, tested or recommended by fellow designers and myself.
The items mentioned on this page page may be part of affiliate scheme in the future and notes will be written next to the product declaring if the design product or resource is part of the scheme – if this is the case, no additionally money will be charged to you, all the fees and commissions are paid from the affiliate supplier.
All items on this page are tried and tested products which are used professionally within the creative industries or recommended by colleagues and other industry professionals. In the future more useful products will be added to this section.
Software and digital tools
Adobe Creative Cloud
Whether you are a graphic designer, a creative director or part of creative team I cannot recommend Creative Cloud enough. Adobe Creative Cloud is an industry standard for designers developers and comes with a whole range of specialised tools to suit your niche or profession. Here is a brief overview of what you can get with CC.
Photo manipulation tools (Good old Photoshop + more )
Illustrator ( This is used for graphic design and vector illustration – see here)
After Effects (motion graphics, post-production of videos – some examples on youtube )
Animate (Classic Animation software)
Dreamweaver (website builder)
Premier (Video Editing suite)
Adobe XD (User experience design software)
And a host other applications that I am yet to test. With the Creative Cloud you can either buy a license for a single program or the purchase the entire suite for a monthly or yearly subscription. Discounts are offered to students and teachers.
If you are a professional designer that wants to work within the design industry or with other creative companies this software is a must. I have been involved with the Adobe Creative Software since CS1 and Adobe Photoshop 7.
You view the pricing and packages here on the Adobe Creative Cloud website. By pressing the link it will it open a new tab in your browser.
At this time I am not part of Adobe CC affiliate, this is has been added in case you are a Designer, business, or work in the creative industry and are wondering where to start with software.
Hosting Packages
Their are various hosting companies out there and you will see the same names again and again. But I will recommend 1 good alternative which I have had fairly good experiences:
123 reg
123 REG – This hosting company offer a cost effective hosting packages, good prices for domain names and discounts for new websites and start-ups!
I have broken down into Pros & Cons why the 123 reg may be good suit for you.
123 Reg Pros :
Affordable. 123 reg offers more reasonable pricing tiers and allows you itemise aspects of your hosting package.
Pretty good customer service – Typically I will get a response within a day of creating a support ticket
Added extras – 123 reg is filled with useful software plugins and a good internal user interface.
Cherry-pick – you can select only the items you want for your hosting and domain package, it is easier to avoid paying for things you don't need
123 Reg Is WordPress friendly
123 Reg Cons :
Hard to access phone number for customer service. To this date, I have not managed to get customer service on a phone. Everything is done through a live chat or email.
Fragmented products – although it is great that you can cherry-pick the items you want it can be expensive to add substantial extras.
They can make it tricky to leave – using their services is pretty good, but I recall having serious issues with trying to get them to close an account for a client. Closing the account on my clients behalf was like pulling teeth and if I had to say one significant negative point, it would be there reluctance in letting you go.
123 Reg honest opinion
123 reg pretty good, they allow you to beak down costs for you hosting, email and domain and they offer a decent customer service – via email. If you want to leave their service though, be prepared for a very slow and long winded process of back and forth emails. It should'nt be as difficult to leave a service as they made it for myself and my past client.
Feel free to have a look for yourself. At this time, I do not earn commissions from 123 REG.

Thank you for reading this page on design recources page, if you would like to know more in the future feel free to sign up or request to subscribe to my newsletter.
Maybe Read these :