This post has been created to showcase a retail kiosk example that was used in Bluewater shopping centre.
Designing or building a retail kiosk can be a challenge.
I have written a helpful post on "how to design a retail kiosk in steps". This post is to show a visual close up of what was involved in creating a kiosk in one of the larger shopping centres in the South East of England.

And, to show you some other examples of what a kiosk is.
A good question to ask yourself? What is a retail kiosk or kiosk store, and what are they for is answered directly below.
What is a kiosk?
A kiosk, or a retail kiosk, is a freestanding booth, installation, or cabin that is typically positioned in areas of high footfall.
You will often find retail kiosks positioned in:-
Shopping centres
Malls
Near areas of busy public transport such as train and bus stations
Tourist attractions
Festivals
Sports events
A kiosk (or retail kiosk) is a low-cost way of establishing a market presence and selling products to customers.
Retail kiosks are often used to sell consumer goods such as; food, beverages, accessories, merchandise, and help shoppers and tourists.
From a design and build perspective, kiosks are (typically) easier to build and remove opposed to shops.
Kiosks can be manned by one or two people.
A kiosk can be anything from a portable shack or shed – to a fiberglass cabin. Or something more bespoke and novelty, depending on budget and requirements.

Retail Kiosk Examples
There many examples of retail kiosks out there including the one I co-designed here in this post (further down).

Below is a written list of kiosk examples you may find.
Icecream booths are often seen at beaches and seaside areas.
Burger shacks are kiosks you can see in a variety of places (market places).
Information kiosks are often self-service units used to help to find your way around.
Health and beauty kiosks are often seen in the main walkways of shopping malls.
Tourist information kiosks will either be a self-service or typically have an assistant operating from within. You will often find these near entrances and lobby areas.
Electronics, Smartphone accessory kiosks tend to operate in medium-sized malls. These booths will often sell cases and offer repairs.
General consumer goods kiosk. There is often a range of kiosks that will sell anything from belt-buckles to cookies.
Example drawings of kiosks (ideas)
Below is a range of kiosk examples and ideas to give you some guidance and inspiration.
Booth Kiosk or prefabricated type!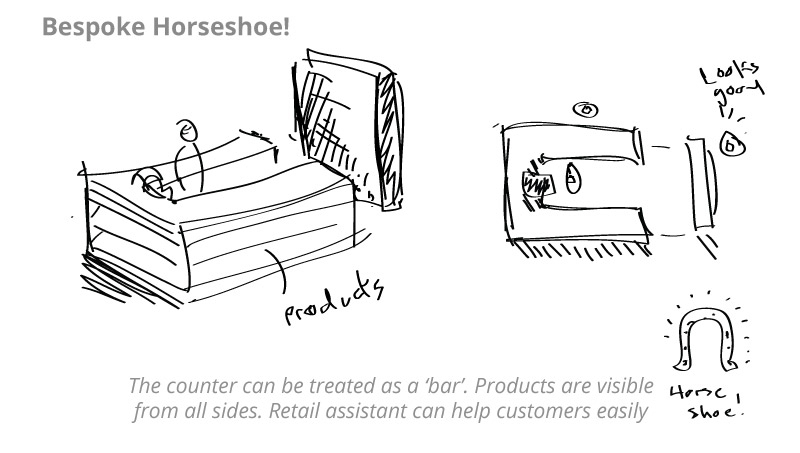 An interesting shape for good access and visibility of products.
Robot Kiosk!
A gigantic bread bin as an example of eccentric kiosk design.

Photographic Examples Of Kiosks
A mood board of kiosk photographs to show you what a kiosk can be. And, potentially give some ideas with the literal examples!

What is a kiosk store?
What is a kiosk store? A kiosk store is a kiosk or booth that concentrates on selling to consumers in a retail environment.
If you want to sell products from a booth or freestanding shack, these would be considered as "kiosk stores". Also known as kiosk shops or derivatives of.
A kiosk store can be mass-made and modular by design, or it can bespoke. It all depends on what is required for space and how you want to create your kiosk. Budget, brand, and products will also affect your kiosk store.

The difference between a "kiosk" and a "kiosk store" is its intent. The kiosk store will aim to sell a product.
Is a retail kiosk profitable?
Whether a kiosk is profitable comes down to the kiosk design, the products, and where the kiosk is positioned? It can also depend on the mall.
Smaller shopping centres such as the ones found at services tend to have lower of footfall. This is due to the fact they have shops aimed toward for convenience instead of dedicated retail shopping.
Large shopping centres such as the ones in Westfields in London are likely to have a much larger footfall. It is to check whether an area for your kiosk will be profitable.
Yes, a retail kiosk can be profitable. You must sell products customers want to buy. You should also look for ways to reduce your overheads and spending to make a profit from your Kiosk.
From a design perspective, using premade or prefabricated elements for the kiosk or booth will lower the cost and potentially increase profit margins.
Bricks and mortar stores and the ailing high-street
I would like to be truthful here and mention that retail, in recent years has had a rough time economically. A kiosk instead of a shop can be a great way of testing a product. If the booth and product is a success. You can then consider creating shop installation – if your kiosk is profitable.
I believe some businesses are harder to emulate online, such as services, things you can smell and taste for example.
And having human interaction!
You can read more on how to design kiosk in steps.

Project Bluewater Kiosk | A retail kiosk example
Designing a kiosk takes planning and thought. You will need to consider the floor space, how to store products. What will go where? Positioning…
"This theme offered a lot for creative freedom with cogs, gears, machines etc – it was easy to turn these into functioning assets."
The design below used all of the methodologies mentioned throughout this post.
Example of a kiosk in Bluewater
The kiosk was designed to be eye-catching and fun! We wanted to pull the users in from the main walkways and look at the products.
The illustration was used as an early look and feel for the kiosk. An idea for design intent. "proof of concept". the proof of concept would have been shown to the landlords for early approval.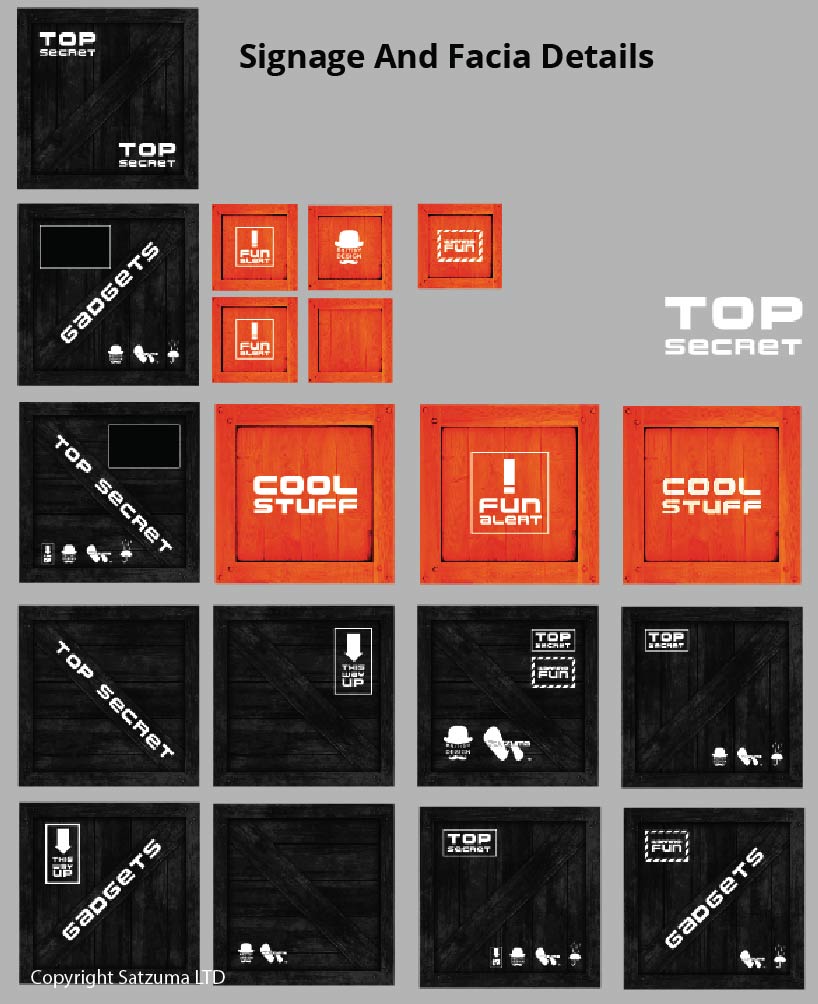 Branded wooden fascias.
The idea of the Kiosk design
The kiosk design above was built upon a previous design that was as themed in the branding and marketing – The Gadget Factory.
The Gadget Factory was a brand story and backdrop that that was created to frame and style certain product ranges.
This theme offered a lot for creative freedom with cogs, gears, machines etc – it was easy to turn these into functioning assets. Neither was It was a stretch to transfer the concept to the kiosk.
These installations turned a few heads at shows. So, we wondered if this would translate to a kiosk?
We tweaked the design a little bit from a factory as this was a theme we'd used for a couple of years.
What would have been attached to the factory?
Warehouse and cargo.
So we really suped-up the whole import-export idea to the next level. I used the brand styling onto the boxes and theme.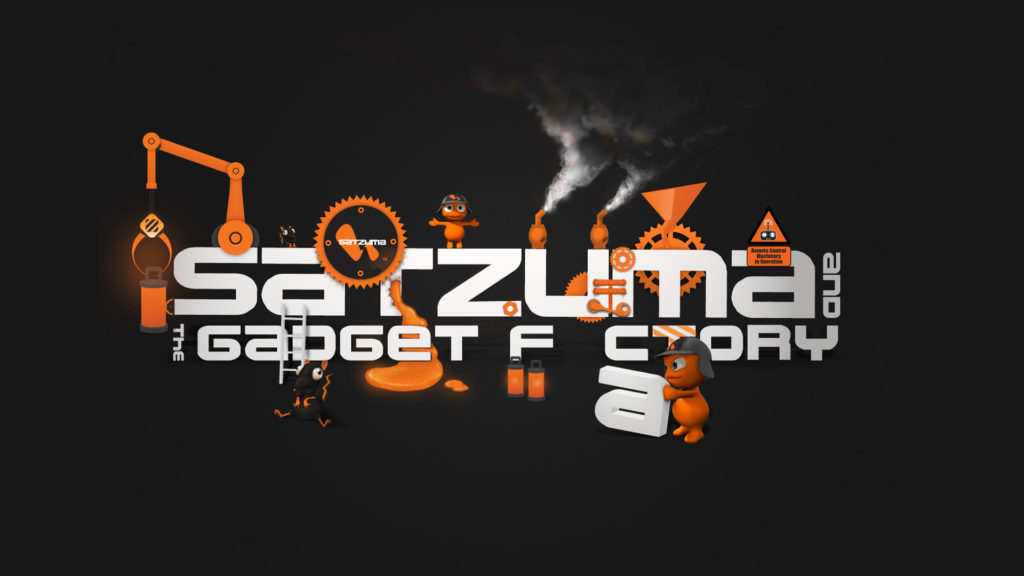 You can look the gadget factory story / project in detail here
Example of the form and function of the Kiosk
The form and function of the kiosk was an important step for the kiosk design process. When designing some of the rough plans in with the look and feel, I considered how it would actually work and sell the products.
For example, how would a customer interact? How would the product be stored overnight? Where it was placed.
And generally, how would the kiosk be built!
We needed an idea, even if the main building wasn't left to me (us).
These were all important steps in the Kiosk design. And hence, this is why the cargo wooden boxes tied in. They were modular, easy to stack, looked intentional. And could be painted easily.
And blended with the theme!
If you would like help with your kiosk design, you can read more on my services here | Kiosk design and visualization.
Conclusive Answer – what is a kiosk? Retail kiosk example
A kiosk is a freestanding booth, cabin or shack that is temporarily built, positioned, or installed. Kiosks are often found in walkways of shopping malls and retail centres. You will often find a kiosk in national parks, markets, and tourist spots too.
A retail kiosk is a great way of promoting a brand or selling a product without having to spend a fortune. You can also source ready-made kiosks which are often made from fibre glass.
Where to get retail kiosk example ideas?
The kiosk displayed above is an example of a retail outlet I co-designed. You can refer to the illustration for ideas kiosk examples. Another good place to find examples of kiosks is Pinterest.

What is a "kiosk store?" ( In Detail )
Still confused as to what a kiosk store actually is? It's not a shop or not quite a stall.
What is a kiosk store? A Kiosk is a booth, cabin or shack or outlet in which you can serve or help customers.
A kiosk store is a pop-up or temporary stand in which you can sell products or merchandise. Kiosks are not permanent fixtures although they can be integrated with the environment.
The merits of the kiosk store are that you can sell a range of products and merchandise. You can test the market before committing to a permanent shop or longer lease.
You may get a kiosk that has a lease for 3 months 6 months or a year. It comes down to how much pay the landlord for a lease on your store.
Being flexible and not fixed to a long term contract is another potential advantage to a kiosk store or shop.
Getting started on creating a pop-up kiosk store
Below is a shortlist of helpful tips to get you started on your first pop kiosk store! These are especially helpful if you are new to creating your own kiosk and are in the early stages of starting up your brand.

Thank you for taking the time to look at the retail kiosk example
The retail kiosk example that I worked on, was created by myself and my past colleagues. My main role in kiosk creation was the design stage.
This particular kiosk design came after a few years of designing stands and installations. Many of these designs were used at international tradeshows for gifting and electronics.
My primary roles in this kiosk design were:
Conceptualisation and visualization in Photoshop and Adobe Illustrator
Drawing – in Photoshop – the look and feel for the kiosk
Model making for some of the displays
Designing signage
Designing marketing collateral to promote products at the kiosk
Liaising with retail and kiosk manufacturers.
I hope that this post has helped to answer what a retail kiosk is. What an example of a kiosk is ( Bluewater project ). And a couple of sketchy ideas for kiosk and booth designs.
Helpful tips for kiosk design, ideas, and creating a product
Posts for budding designers
Freelance Commercial Services (external website)
Jimmsdesign – retail kiosk example (examples) and kiosk ideas! "what is a retail kiosk!"